Green Topics
What is Green Housing?
A green home focuses on the practices of sustainability, health & energy efficiency. It begins with the design & architecture of the home at it's very root and continues every day with the individual and our daily living habits. Green homes seek to create a healthy living space, while reducing our negative impact on our environment, and in some cases, creating a positive impact.
What's New?
Green Condo for sale in La Jolla!
Open House Saturday Jan 28 10-noon - come learn about Earthbag home construction!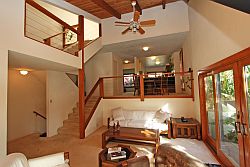 View Photo Gallery & Details: 3214 Via Alicante, 92037
For a Private Viewing, call me directly - Adam: 858-761-1707
Our Mission: It's Simple. It's Quality. It's Efficient. It Endures.
Our mission is to better the future of our world by promoting how to live green in the home, work place and more... We aim to promote simple solutions using products that excel in quality, efficiency, and have the long-term in mind. We also hope to dispel the idea that going green is cost prohibitive, because most of the time it isn't, especially when time is taken into account. In addition to the concepts and ideals, we will highlight specific ways in which "going green" will...improve our lives...save time....build wealth. GreenHousingSD.com is written & run by Adam Pascu, San Diego real estate broker, philanthropist, and Green homes enthusiast.